GN Solids Control manufactures lots of compact mud systems for non-conventional oil and gas drilling areas. Although the oil price is pretty low, GN Solids Control are doing greater and greater in the HDD, TBM, CBM, Bored Pile Drilling and Dredging areas etc.
GN Solids Control's mud systems are proven to be effectively used globally. As one of the largest market for GN Solids, Africa market are using thousands of GN Solids
Control equipments every year, among which are new purchased equipments.
GN Solids Control has delivered many sets compact mud systems to many famous drilling companies over there. Recently, GN Solids Control has finished the after sales service of 2 sets 500 GPM mud systems for one drilling client in South Africa.
These two sets GN 500 GPM mud recycling systems are economical systems. One GN large desander cyclone is mounted no the top of one double deck shaker. Coarse solids are separated out by the bottom shaker which is assembled with small API no. shaker screens. For those slurry penetrates the shaker screens is collected by the bottom compact mud tank, a centrifugal pump is also fixed on the skid to feed the slurry into the large desander cyclone. Here the cyclone separates out the solids larger than 50 microns.

As there is a second deck shaker screens underneath the cyclone, they are mainly used for finer solids separation. The total treating capacity of this system is 500 GPM. Clean mud is storaged in the bottom tank. The difference between GN economical mud tank and high configuration mud tank is the latter has a mixing tank which can be used for adding and mixing some chemicals.

All GN mud systems have compact design for convenient moving. By using GN Compact Mud System, drilling companies can save large cost on drilling fluids and protect environment at the same time.
These years, GN Solids Control is getting more and more active in the No Dig Drilling Industries. More drilling companies are using GN Solids Control's mud systems to treat the drilling slurry.
In China, GN Solids has been the top one trenchless industry mud recycling equipment and system manufacturer. These years, GN Solids Control has provided mud systems to Petroleum Pipeline Bureau, China Coal Group, Schrum drilling rigs and other famous enterprises. In this year oil and gas industry is pretty slow, while trenchless industry orders are a major highlight for GN Solids Control.
In order to intensify efforts to promote products, GN Solids ready to participate in this trenchless industry exhibition, showcase the latest research and development production of the mud systems. GN Solid control can design, manufacture mud recovery system with compact structure: skid-mounted, hydraulic lift, vehicle-mounted, meets the requirements of rapid relocation in different conditions. 40m³ / h, 80m³ / h, 115m³ / h, 230m³ / h, 340m³ / h, 450m³ / h capacity and other design to meet the needs of trenchless drilling rig supporting different models.
GN Solids Control standardized mud recovery systems are divided into two series, with economical type and high type: economy type is mainly used for cleaning and recovery of the mud, do not have the storage and mud mixed features may require additional configuration mud tanks and mixing equipment; on the other side, the high type combination of purification and recovery of mud storage and mixing function, and divide multi-stage purification process, to meet the high-end machine and medium-sized drilling rig needs.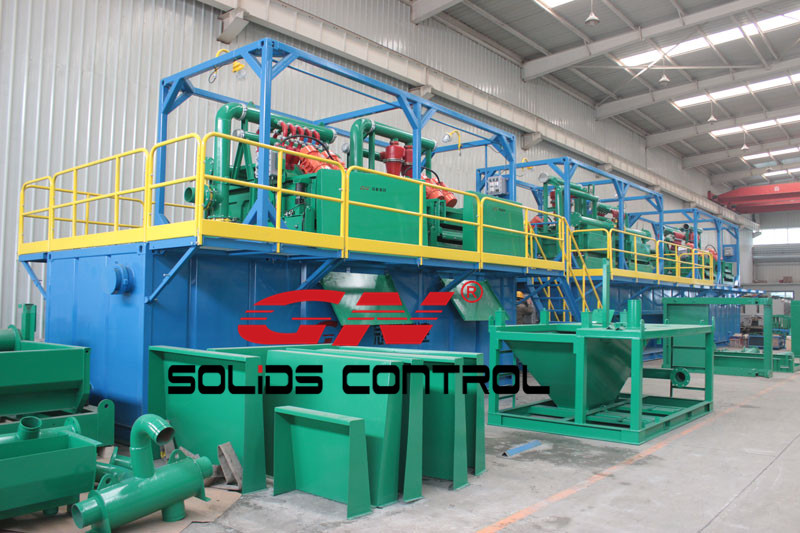 This exhibition will show the series of the mud recovery system, and relevant staff on-site detailed explanations and live cases listed video sharing, welcome to the official website and the public micro-channel customer care of GN Solids Control, and more detailed device information and industry information.
Show information:
Show time: 10-12 October, 2016. Booth Number: 128
Address: East Third Ring Road, Chaoyang District, No. 16 (National Agricultural Exhibition Center)
GN Solids Control manufactures varieties of decanter centrifuges from the mini centrifuge 9 inch rotating bowl to the large centrifuge 22 inch rotating bowl. As the oil and gas industry is very slow for a long period, GN Solids Control also tries to develop the other industries such as industrial slurry separation, food and beverage industry, oil industry etc. With these years' accumulated experiences, GN Solids Control has been actively working on some other solids control or slurry separation area.
At the end of this year, GN Solids Control successfully lanced one newly developed decanter centrifuge with 30 inch rotating bowl. GN decanter centrifuges are one of the world famous separating equipments due to the excellent working performance and convincing long time working without broken, just only need a little bit regular maintenance. GN Solids Control 30 inch decanter centrifuge are mainly targeted to large volume separation in the Industry Slurry treating, HDD Slurry treating as well as the Bored Pile Drilling areas. Many clients are also using GN large decanter centrifuges in the TBM drilling and Municipal Sewage Sludge clarifies.
GN Solids Control 30 inch centrifuge (type GNLW764A-VFD) has the treating capacity of 800 GPM. The bowl diameter is 30 inch which is 760 mm and the bowl length is 132 inch (around 3344 mm). The max G force for this centrifuge can reach to nearly 3000, which can be used to separate out most of the large solids.
GN Solids Control provides explosion proof driven motors and control cabinets, from IEC to ATEX, GN decanter centrifuges are certified to working in the harsh environment.

Now GN Solids Control also has three sets decanter centrifuges stocking in GN Houston warehouse. Those are 14 inch rotating bowl decanter centrifuge, which are mainly used for treating 130 GPM slurry separation. As GN Solids America grow really fast in the global world, GN Solids Control is working with more and more large clients from more than 60 countries.