GN Solids Control is good at providing drilling waste treat systems, high density oil base cuttings, water base cuttings and synthesis base cuttings can be treated by using GN drilling waste treating equipment. Generally speaking, there are 3 mainly treating equipment includes shale shake, cuttings dryer and decanter centrifuge.
1. GN Shale Shaker
GN shale shake is the first phase treating equipment. Coarse solids can be separated out by using GN shale shaker. Usually, GN recommends using high G force shaker which can reach to 8.0 G. GN Hi-G shaker is mainly used to treat water base cuttings. There are 4 pcs of GN composite frame shaker screens fixed on the shaker deck, with the large vibration of USA Martin motors or Italy OLI motors, GN Hi-G shaker separate out most of the liquid inside the water base cuttings. Cuttings are transferred by screw conveyors and feed into GN shale shaker.
2. GN Cuttings Dryer
GN Cuttings Dryer has 3 size screen baskets: 250microns, 350 microns and 500 microns. Cuttings dryer is mainly used to treat oil base cuttings or synthesis base cuttings. With the rotating speed of almost 900 rpm, GN cuttings dryer separate the cuttings between the high rotating flights and screen basket. 4 sets of flushing outlets and 1 set air knife system are fixed on the cuttings dryer to keep it from blocking.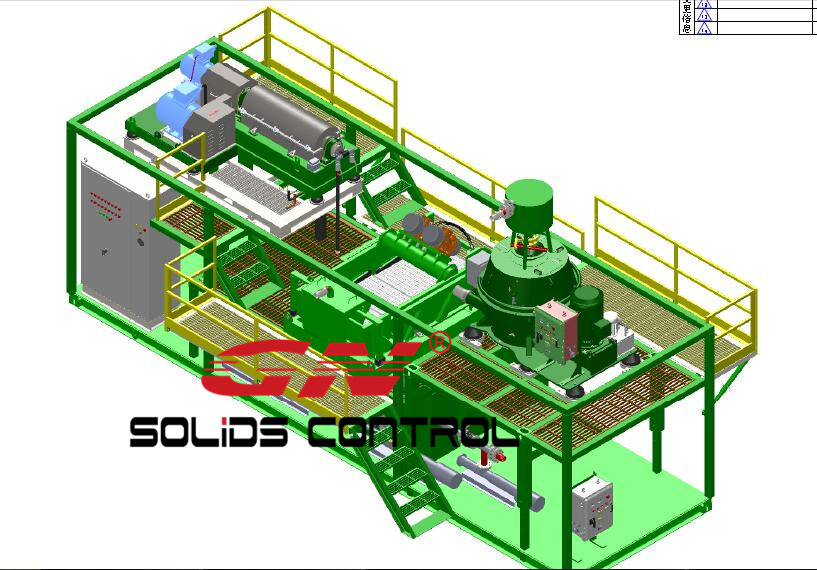 3. GN Decanter Centrifuge
Centrifuge is the second phase treating equipment, solids larger than 2~5 microns can be separated out. After treated by GN H-G shaker and GN Cuttings Dryer, slurry will be feed into decanter centrifuge by using screw pump or submersible pump.
Now GN Solids America LLC has these drill cuttings treatment system. GN shale shaker, GN decanter centrifuge and GN cuttings dryer is stocking in Houston warehouse. If you need any equipment, GN Solids America LLC can ship them from Houston immediately.
GN Solids Control manufactures various feeding pumps which can be used to transfer high density slurry. Now GN feeding pumps include: centrifugal pump, submersible pump, screw pump etc. Pumps are wearable products, the pump shell and inside impeller need to be change after use for a long while.
GN centrifugal pumps are totally interchangeable with Mission Magnum pump.
Submersible pump is usually used to feed into decanter centrifuge, same as screw pump. Screw pump is also called positive displacement pump, it includes stator and rotator. Screw pump transfers the slurry without agitating the fluids too much.
This year, GN Solids Control also launched one new pump which is vacuum pump. GN Vacuum Pump is especially good at transfer high density slurry, such as drilling cuttings in a large height mud pit.
Every year, GN Solids Control manufactures various mud pumps. And this year, GN Solids Control receives many inquiries on centrifugal pumps, submersible pump, shear pump and vacuum pump. Here is one former inquiry we'd like to share with you:

I'm looking for your kindness to provide me with the quotation for SCREW PUMP. Please quote me as soon as possible.
Please refer the item below. If you need any further questions just feel highly appreciated to
let me know, I will response promptly.
NO PRODUCT NO. DESCRIPTION QTY UNIT
PUMP, 2 EA
Item Name (to purchase): SCREW PUMP
Application: INDUSTRIAL
Size Outlet: 1.1/2 IN
Size Inlet: 1.1/2 IN
NOTE: Your offer should be accompanied with;
1) Official Quotations
2) Warranty Period
3) Technical Specifications
4) Data Sheet & Catalog (Drawing)
5) Certificates belong to the offered items
6) Estimate Weight
7) FOB Port, Country of Origin
8) Freight Charges
9) Validity Offer at least: 60 days

GN manufactures various screw pumps, based on motor power and treating flow, GN recommends one certain screw pump to our customers. And GN Solids America LLC also has screw pumps in Houston warehouse.