The Start
It starts from POLLUTION. It starts people / government finally realised that the earth, the land, the water, what they live, or the living based on have been destroyed. Then late but rather than none, law comes, to list the standard we should follow, the limit of deposit we can dump. In China, seems they also realised that it is already too late for protecting the environment, the law is quite strict on the drilling waste management, the standard is even higher than other developed countries. Drilling fluid have been list in the quite dangerous fluid, and the fluid after treatment have to comply with the waste water recycle regulations. Though the technique now in China is not developed that well, it is already a big step.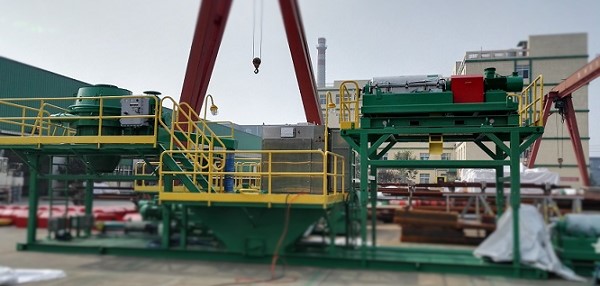 The Main Equipment
The main and initial equipment including Hi-G shaker, Verticle cuttings dryer, and decanter centrifuge. For most of the applications, if water based mud, the first step is collect all the drilling cuttings from shale shaker, mud cleaners to the Hi G shaker. If oil based mud, then to the vertical cuttings dryer. Then fluid after these two equipment will be pumped to the decanter centrifuge.
Hose Pump, Screw Conveyor, are normally used for transferring the solids / drilling waste from one stage to another stage, depends on the drilling site arrangement. GN Solids Control is offering modular transferring solutions.
The Better Solution
Except the basic solution, if need better result, cleaner fluids, cleaner water, dryer solids, which can be dumped or reused. Then the other intrestesting equipment will be used.
Dewatering system
Normally used after or before the decanter centrifuge, to improve the result from the decanter centrifuge, if after the centrifuge in drilling waste management progress then also need another decanter. GN Solids control have the containerised dewatering unit as optional offer.
Solidification
For water based drilling waste, the final step for solids is dump, normally. Then solidification is also a normal choice, GN solids control is offering the solidification unit which have been used for a lot of the site.
TDU Thermal Desperation Unit
If more complex drilling waste management site, especially when we need recycle water, oil, and reuse solids waste, then the TDU will be a good option, as that what she will do. GN Solids Control is testing it in 2016, and will face the world soon. Keep tune.