GN Separation as one new brand of GN company, it main focus on the solids liquid separation industry. The separation equipment is not only limited the Decanter centrifuge ,shale shaker, we also design and manufacture the most efficiency separation and dewatering equipment to meet the market demanded.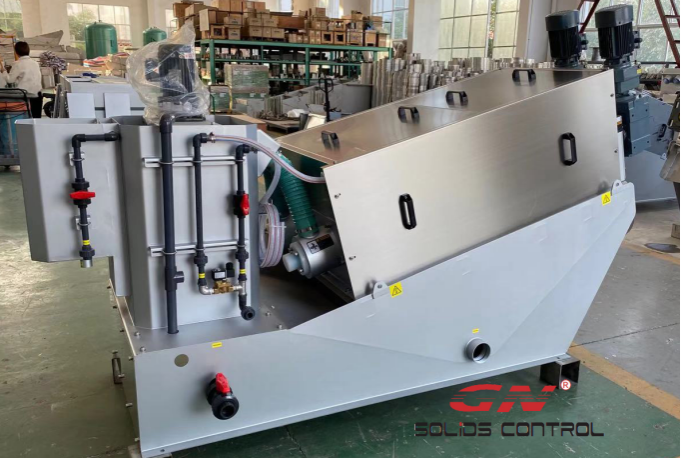 Last week we delivered one screw press dewatering machine to units states customer. Screw press is one of the new machine of GN. We started to provide screw press to customer since 2019. Different with Decanter centrifuge, screw press is utilize the pressing force between move ring and fixed ring to squeeze the sludge to extrude the water included in sludge. Decanter centrifuge use the separation force generated under the high rotated speed, the different density material will bear the different separation force, and settle down on different layer. The solids will sink on the bottom and liquid above solids, through screw pusher to discharge the solids. Decanter centrifuge has the big treating capacity, the slurry sometimes do not need to mix flocculant. But the consumption of power is a litter higher, the discharged solids is not dry enough.
Screw press dewatering machine is lower power than Decanter centrifuge. It has the different model with treating capacity from 4kg/hour ~640kg/hour of dry solids weight. For customer, it has more optional to get the suitable model for their project. Low power is the most feature of this machine. such as the biggest model GNDL-404,which can process 133m3/hour and the total power is only 7.5kw. Simple structure made it easy to maintenance, actually only move ring and fixed ring need to replace after long time using. In most project, screw press dewatering machine need to run with chemical dosing unit, add flocculant to combine small particle into big one and then feed into screw press to dewater it.
GN can provide the customize separation and dewatering solution for your project, if you have demand on this ,welcome to contact us.