HDD is short of horizontal direction drilling, it is one kind rig machine that can directly drilling underground and will not break the ground surface. That is widely application on municipal project, such as the underground electrical wire system ,city drainage system. According to different project situation ,there may will use the drilling mud to cool rig and carry out the drill cutting from the tunnel. Compare with oil well drilling mud, this mud is easily to treatment.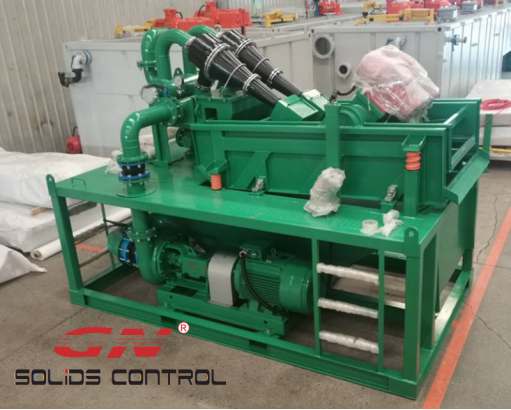 Last week, we delivered one set HDD mud recycling system to out client. In this system, it include one 1000gpm/hour mud treating unit, jet mud mixer and mud tank. The mud treating unit is the main product to separate the drilling mud ,the unit has two 10 inch hydrocyclone mounted on GNZS706 shale shaker. Actually this unit can be individually used as mud treating system. GNZS706 is two layers shale shaker, pump feed the slurry in to the bottom layer shaker screen for first stage treatment, it can remove out the big size particle. The liquid will drop to the bottom tank through the shaker. The other centrifuge pump will suck the liquid from bottom tank into the hydrocyclone. In the hydrocyclone treatment ,the clean liquid will be discharged from big end to other tank for recycle. The separated solids will discharged through small end and drop on the up layer screen for further separation. Solids be move out and liquid go down the bottom tank. The drilling mud after the whole program separation, it will clear enough for reuse.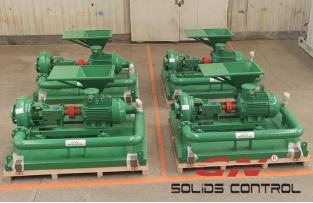 We also equipped one mud jet mixer in this system. The operator can dump the mud material into the hopper, through the venturi structure, the mud material will be sucked and mixed with water, and then pump into the mud tank.
Mud recycling not only be used in trencheless project, but also in tunnel boring, piling project etc. GN can provide the whole set solution according to client requirement. We will be pleased to share our experience if you have demanded on these separation equipment.