As we all know,Middle East is main the distract of petroleum production, there are many oilfield and rig machine. GN Solids Control as a China manufacture of solids control equipment ,which has got the good reputation from middle east market.GN built the long-term cooperation with the middle east customer , and every year provide large equipment to this market. As a professional company of solid control equipment ,GN has the ability to supply the whole set solution for the drilling mud and oilfield waste treatment ,not only the equipment but also the systems. Last week we delivered 4 sets hydraulic drive decanter centrifuge to middle east .

GN has 3 kinds decanter centrifuge according to the drive types. They are fixed speed drive, VFD (variety frequency drive ),FHD(Full hydraulic drive ). Both the VFD and FHD can adjust the speed according to actual need. But the FUD have the more advantages then VFD. It can output the more bigger torque. When start machine ,it can protect more better because the power are transferred by the liquid (hydraulic oil ). So the FHD Decanter centrifuge can well satisfied the requirement that the drilling industry need big treatment capacity with big torque to the decanter centrifuge.
All the 4 sets decanter are the GN 363 series.Except this model, GN also has the 200 series,400seriese ,500seriese and 700 series. The 200 series decanter centrifuge is a the smallest capacity centrifuge and normally used in the mining exploration. The 700 series is the biggest capacity centrifuge ,main used for the waste water plant and mining industry such as cola mining slurry treatment.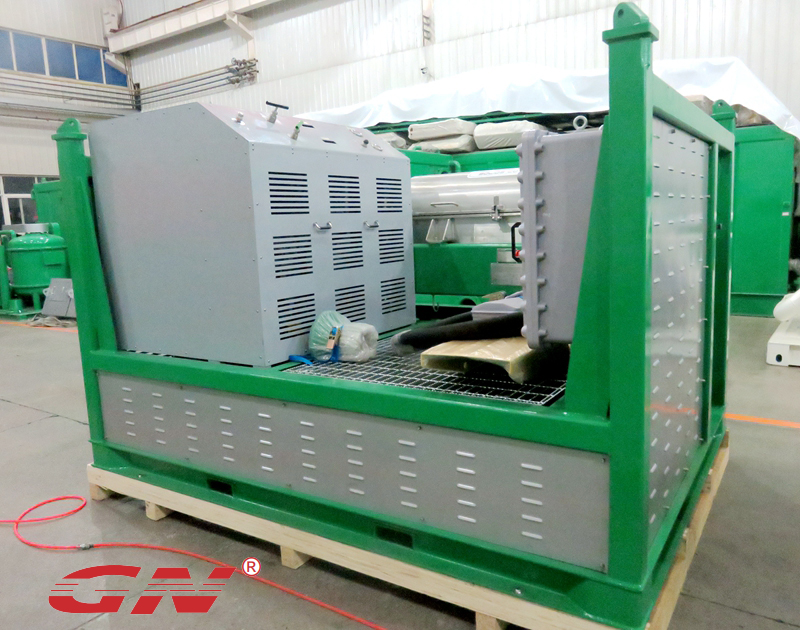 The 300 series,400 series,500 series are much used on the solids control of drilling , and all the three series can provide the VFD and FHD. If you have the demand please feel free to contact us , and we have the warehouse in Houston to serve the America customer.