GN is one of the earliest China manufacturer that get into solids control industry and serve oil gas industry. With the 15 years development, GN get his reputation from user. Solids control equipment is what the best we do. GN has the whole series solids control equipment from primary separation to the end waste treatment. We can design and manufacturer the whole set solids control system. Today I will introduce the core equipment of solids control system GNLW-363 Decanter centrifuge.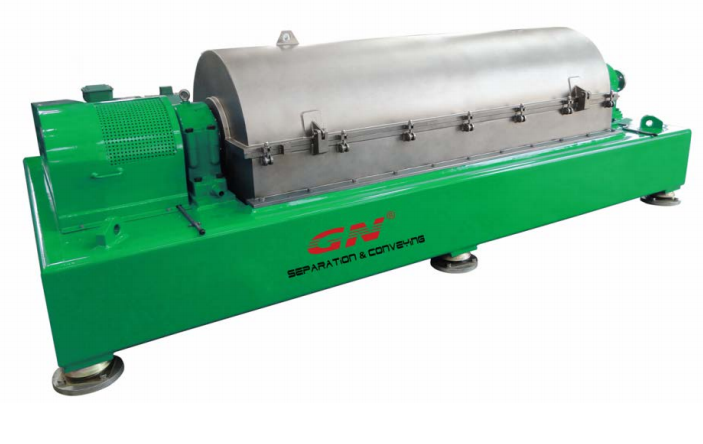 As we all know shale shaker, mud cleaner both only can provide the big size particle in drilling mud. If client want to get cleaner mud, Decanter centrifuge is the best choice for further process of drilling mud. Actually the Decanter centrifuge application in drilling industry has been long history. The drilling mud after recycling time by time, the big particle can be move out by shale shaker. But with accumulation of tiny particle, the drilling mud property will be affected. Only the Decanter centrifuge can remove these tiny solids quickly. GNLW363 is specially designed for this application. Engineer considered all factors of drilling mud treatment when design this model centrifuge. Firstly, separation G Force, different with other industry requirement , the density of content particle in drilling mud is much higher than waters, so 2500 separation G force with 3500 rpm is enough for drilling mud treatment. In solids control system, the decanter centrifuge running is discontinuous, only when the tiny solids accumulate to a certain point, we run centrifuge. So 363 decanter centrifuge with 30m3 per hour treating capacity is suitable. If client required capacity is bigger, we can add one extra machine for use.
GNLW363 decanter centrifuge has fixed speed, VFD control and FHD. VFD and FHD are convenient to adjust centrifuge speed according to mud situation. And the flow rate of feeding pump is also adjusted by centrifuge box of decanter centrifuge.
We sold decanter centrifuge to more than 75 countries, if you need them, welcome to contact us.