GN Solids Control has been working on designing and manufacturing turn-key solids control and drilling slurry treatment solutions for many years. With more and more GN equipment and treating systems successfully used in customers' work site, there're more inquires on solids control treating systems.
Just several weeks before, GN Solids Control won a large order of 1000GPM solids control treating systems from one European drilling customer. There are many strict rules and regulations need to meet in order to win this tender, eventually, GN Solids Control left a pretty professional experience for customers.
Although there are still many technical details need to be further discussed, GN Solids Control is pretty confident to provide another satisfied cost-effective solids control system. Typical, GN Solids Control System includes the following part: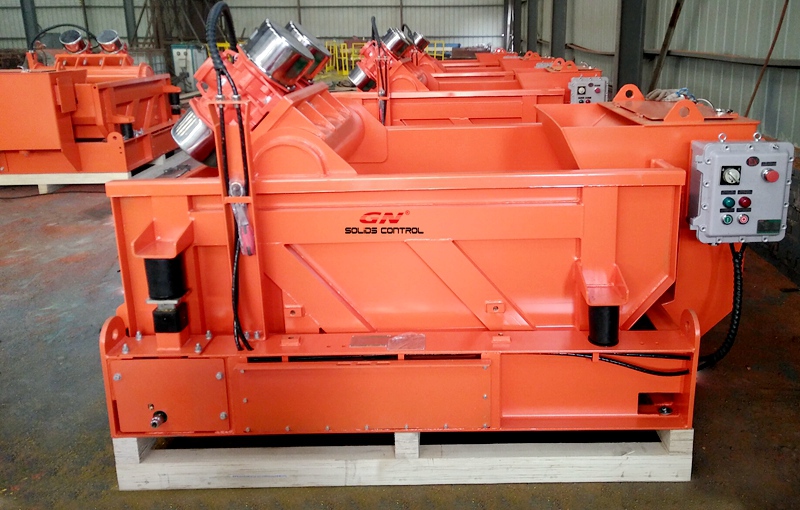 1. Shaker Tank
GN Shale shakers are usually used by 2 sets or 4 sets. Considering the maintenance and shaker screen changing, it's better to have 2 backup shale shakers. Due to GN Solids Control are manufacturing the most cost-effective shaker screens, so from the long run, drilling companies will save a lot on shaker screens investment as they are wearable parts and need to change frequently. GN Mud Cleaners (include GN desander cyclones and GN desilter cyclones) are also used. After treating by GN shaker tank, solids larger than 25 microns can be separated out.
2. Centrifuge Tank
Decanter centrifuges are all commonly used. Generally speaking, one middle rotating speed centrifuge and one high rotating speed centrifuge will be used. The first one is used to separated out most of the solids. While the second centrifuge also called polishing centrifuge is used to eliminate those much finer solids.

3. Mud Mixing Tank
After treated by above equipment, GN mud mixing tanks are used to prepare new drilling mud. A GN Jet Mud Mixer is common seen to add drilling additives and make new drilling mud.
4. Mud Storage Tank
Mud storage tank will stock those new drilling mud and keep them agitating. New drilling mud can be reused.