GN Solids Control Got Large Shaker Screens Order from Europe
GN Solids Control Co., Ltd is always devoted to provide the best quality products while with a reasonable price. Now GN Solids Control product series cover all solids control and drilling waste management equipments. GN Solids Control professional engineer has many new ideas every year, many creative types of equipment are also provided.
With the fast growing of GN Solids Control, GN just opened another factory which is GN No. 2 factory. GN new factory is pretty close to GN headquarters which is only 10 minutes drive. GN new factory will manufacture shaker screens and decanter centrifuges. These days, GN Solids Control is busy working on to assembling many advance CNC machines in the NO. 2 factory.
GN Solids Control can provide over 5000 pieces shaker screens every month, drilling companies from more than sixty countries and regions are using GN shaker screens. As GN Solids Control has been working with many large energy companies for many years, and they keep buying shaker screens from us, some drilling companies are purchasing over 1000 shaker screens from us every quarter.
Recently, GN Solids Control has provided over 1600 pieces shaker screens to one drilling company from Europe. GN Solids Control has many large companies keep purchasing shaker screens regularly.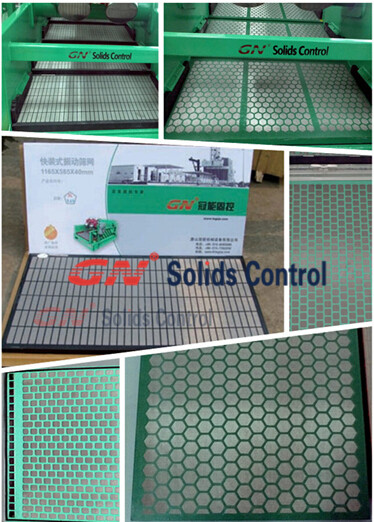 Europe is one large market for GN Solids Control, with the opening of GN Solids America and GN Solids Russia, more and more companies are using GN shaker screens to replace those original screens.
GN Solids Control also manufactures various shakers. GNZS594 shaker is using the same size shaker screens as Mi-Swaco. GN also has one mini type shaker, which is most used to equip with GN mini decanter centrifuge.
This year, GN Solids America LLC will exhibit some composite shaker screens in the OTC show. Free samples can be provide to drilling companies have regular orders. Welcome to GN Houston warehouse and check GN shaker screens.