Hydro excavation is a popular and widely used in different field ,Especially in developed countries that have strictly required in environmental protection. During the hydrovac process, the soil cover is liquefied, resulting slurry is simultaneously extracted by a powerful vacuum and stored in tank on board the hydrovac. Hydro Excavation is quick ,convenient and environmentally sound ,But it use lots of water and generated lots of slurry .GN Hydro Vac Slurry System is mainly used to separate the soil from slurry and recycle the water for reusing.
The system main equipment includes Catch Hopper,Coarse Shaker,Desilter,Finer Shaker,Decanter centrifuge.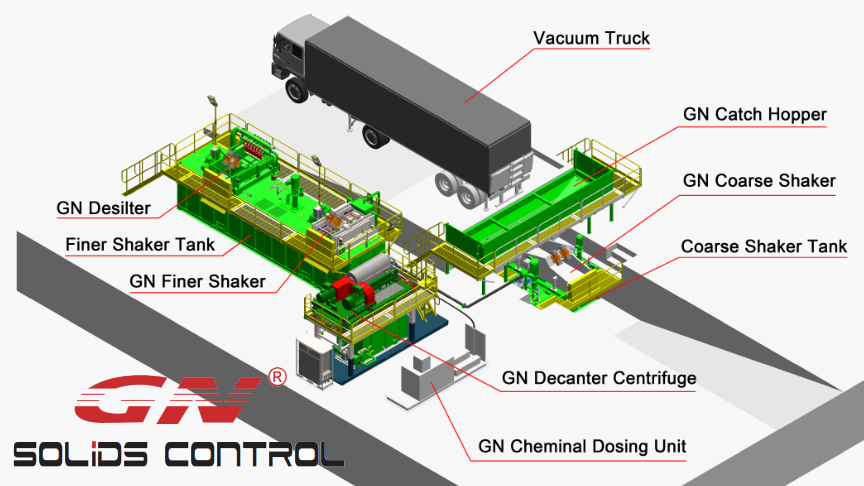 The vacuum truck can directly dump slurry into catch hopper, then the slurry will be treated by coarse shaker to separate out the big particle and reduce the solids content.
The liquid after coarse shaker will be further treated by desilter and finer shaker. Sometime you can get the clean water for reusing , but most times the liquid need to separated by decanter centrifuge . Decanter centrifuge can separate out the solids less than 20um . The solids and water will be totally separated after the system , we can get the solids and clean water, and the water can be used for the hydro excavation again.
At present, our system is very popular in North America. This system can greatly solve the sludge treatment problem generated in hydro excavation, and the recovered clean water can be reused in hydro excavation to reduce water cost. The system has a high degree of automation, simple and continuous operation, which can effectively reduce the cost of the enterprise and environment friendly.
GN can also provide customized technical solutions for customer to satisfied with your special requirement. Make the system reduce the cost of the enterprise maximally under the premise of meeting the requirements of use.If you want more details, please feel free to contact us.