GN has been in the solids control industry for more than 13 years. We never stop to develop new equipment to help our customer impression the drilling efficiency ,and reduce the cost. As we all know there will produce large drilling cutting and other waste solids in the oil field when drilling. We need to transfer these waste into other place immediately to make room for the constantly discharged drilling cutting from shale shaker or decanter centrifuge. Most of oil field use the screw conveyor for these material transferring. But the screw conveyor only can transfer in straight direction , if there is a elbow transfer ,we have to add other screw conveyor. This will occupy much area at job site and also limited on the transfer distance.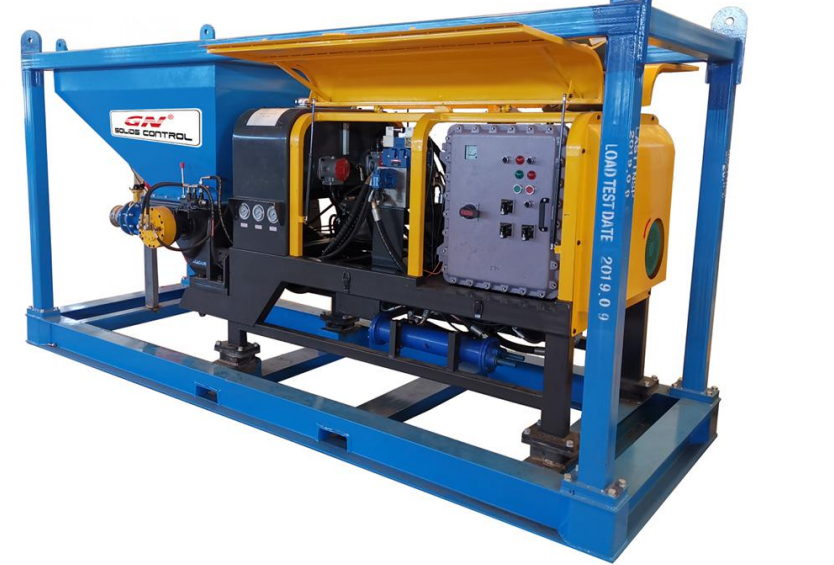 GN drill cutting transfer pump is developed for the high solids material transfer. Difference with screw conveyor, there are two hydraulic rod to inject the material into the pipe, and then push it, complete the the solids transferring. The transfer distance of this pump can reach 100 meters in horizontal and the vertical height can reach 30meters. And the max particle size the pump can transfer is 20mm. GN drilling cutting transfer pump is automatic, we designed a catch hopper, the discharged drilling cutting from shale shaker can directly feed into the hopper, and then be transferred.
We have 3 models according to the transfer capacity , the 15A for 10 tons/hour, 22A for 20tons/hour, and the 30A for 30 tons/hour. Long transfer distance and small occupation space are the advantage to other kinds pump. The solids pump even can transfer 100% dry powder material, but for now, we only used it for drilling industry. Sample mechanical structure , easily maintain and stable quality , that will make sure the drilling cutting transfer pump will instead of screw conveyor someday. If your project have demand on our equipment , welcome to contact us. We will be pleased to quote and provide the technical support.