On the fermentation progress the bacteria, yeasts or molds will transform into valuable products and materials. Mechanical separation technology allows these fermentation products to be obtained from the fermentation broth. GN disc centrifuge can be used to separate the fermentation to get the valuable products .
Most times the fermentation material will invlov the water ,oil ,cells debris ,extract material, (sometimes we will use the hexane as the extract material to finish the extraction process .Hexane is one kind explosive material ,so when the material include hexanr or the other explosive material,the disc centrifuge must equip the Nitrogen isolation to prevent the air contact).The valuable products will dissolve in the hexane , the disc centrifuge can separate the water ,solids,hexane in same time ,this progress is efficient and quick . After we complete the separation ,the hexane involved the valuable product will be further separation by distillation. Through the different boiling point ,we can get the final material that we want .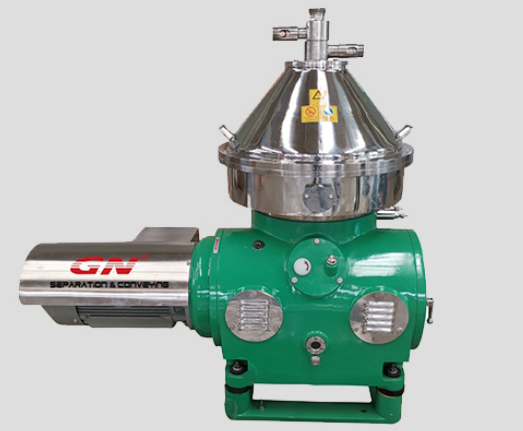 Disc centrifuge has wide application ,not only the fermentation the above we mentioned , but also the pharmacy, winery,chemical, environmental protection etc. According to the different application , it has 2 phase and 3phase centrifuge . The 2 phase centrifuge only can complete the solids and liquid separation. the 3 phase disc centrifuge can treat 1 solids and 2 kinds liquid as same time . But it require the two kinds liquid with different density and also do not dissolve each other. The disc centrifuge rotated speed can reach 7000 rpm and the G force can bigger than 10000G, which is high speed centrifuge . The inner bowl used the extra strong and wear-resisting steel. Ever parts are processed by the precision machine tool .Such as the disc also need to past the balance test under the different speed.
Our technical team can provide the professional solution for your project , if you have the demand in the separation equipment , welcome to contact us.