After 15 years development ,GN not only serve the oil well drilling ,but also provide equipment to the waste water plant. Actually the drilling mud and waste water treatment both are remove the big size solids and recycle the liquid. GN P series decanter centrifuge is specially used for the wast water treatment. Last week we delivered the GN 554 Decanter centrifuge to UK, and also the screw conveyor for the solids conveying.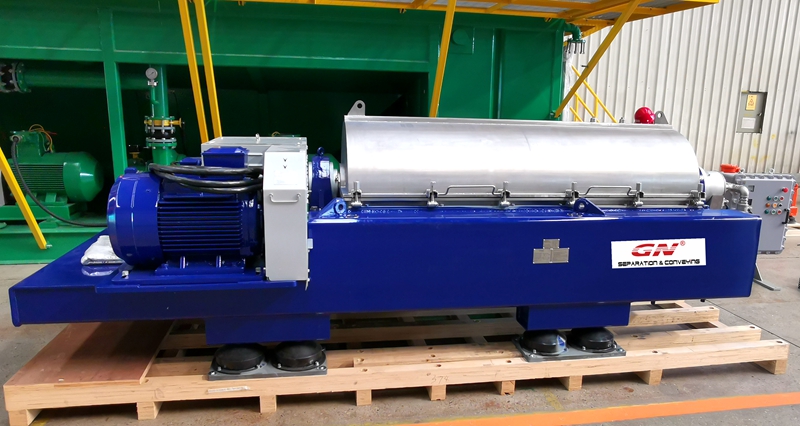 GN 554 Decanter centrifuge is the second large capacity equipment, which has served many project of all the word ,oil well drilling mud treatment , waste water treatment ,and also in some chemical industry. 554 Decanter centrifuge is driven by VFD, the max rotated speed can be 3150 RPM , and max G force is 3051G. The bowl diameter is 22 inch and the length is 91 inch. The longer bowl can keep the material staying more time is the screw bowl , then the solids-liquid can be separated more better .GN used many special material to the centrifuge, such as the bowl is whole body cast with SS316 steel, it is more stronger. The screw used the anti wear material Tungsten Carbide Tiles, which makes the screw work for more longer life, and the tiles are installed by bolt ,it is very convenient to repair and replace. Some our competitor weld the anti wear material on the screw, so it have repair the whole set screw ,even part of the screw was damaged.
As the request customer , we produced the screw conveyor for customer's project. This conveyor is combine with sever sections, each section is same diameter and they can connect together into a more longer conveyor. Which is really good idea for the shipping. Because it will hard to transport if the conveyor length is longer than container.
GN has the rich experience in the solids -liquid separation project , if your have the similar demanded, we will be pleased to share our experience and provide the technical support.