GN Solids Control is a leading manufacturer of shaker screens, it's headquarter is located in China. Now GN Solids Control has two main manufacturing factories. GN Solids Control provides over 5000 pieces of various shaker screens every month. GN No. 2 factory has finished building last year, many automatic CNC machines are moving to the GN new factory. With the opening of this new factory, GN will be able to manufacture over 15000 pieces shaker screens every month.
As the oil price keeps going down, many large drilling companies are using GN shaker screens to cut cost. GN manufactures many different types of replacement shaker screens, which includes replacement Derrick 500 and Derrick 2000 series, Swaco Mongoose screens, NOV King Cobra or VSM300 series, FIS screens. All GN replacement screens are effectively used to replace those above screens with a very good separating performance while the price is very low, drilling companies can save up to 50% compare to using the original screens.
GN cutting edge CNC machines manufacture various shaker screens and keep a good consistency. GN screens include metal frame screens and composite frame screens. With the usage of GN No. 2 factory, GN Solids Control will provide more and more composite material shaker screens. The manufacturing cost of composite shaker screens are higher than metal frame screens, but their separating performance and using life is much better than the metal frame screens.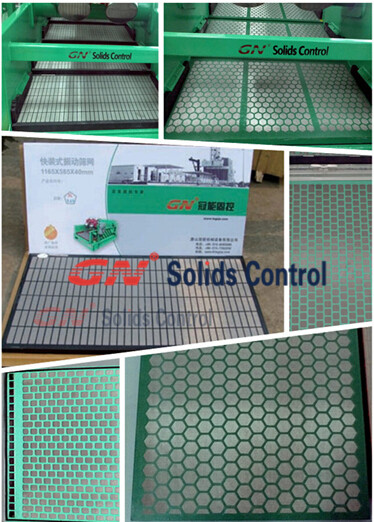 GN Solids America LLC is a branch company of GN Solids Control. GN Solids America was registered in 2014, but it started the real business in 2015. Although GN Solids is a new company in Houston, TX, GN Solids America LLC is getting to know by more and more domestic companies.
Since the fourth quarter of last year, GN Solids America LLC had been keeping many shaker screens in Houston warehouse. Due to drilling companies have large needs every time; GN Solids America is stocking various shaker screens for some large companies.