GN Solids Control manufactures various shaker screens and provides shaker screens to more than sixty countries. With these years' fast development, GN Solids Control has been getting to known by more and more shaker screens users.
GN Solids Control shaker screens are largely used by drilling contractors, now most of the world famous shaker screens can be replaced with GN shaker screens, such as Mongoose screens, Derrick 500 and Derrick 2000 shaker screens, Fluids System screens, NOV Venom screens etc. GN Shaker screens are largely needed and be purchased regularly by global customers. Now GN Solids Control manufactures more than 5000 pieces every month, the typical lead time for 500 pieces shaker screens is around 20 to 25 days.
GN Solids Control shaker screens have already been proved the most cost effective shaker screens comply with API standard. GN Solids Control now manufactures two types of shaker screens: one is in metal frame and the other is on composite frame. Actually, the composite shaker screen's frame is embedding with steel frame which are welded by robot. The outside part is made by plastic by mould. That composite frame is mixed with high quality fiber glass for higher temperature usage, also has a the excellent character of vibrating resistant.
GN Solids Control provides shaker screens with rectangular weave, which formed by larger diameter wire (50% larger than the square weave wire) for excellent permeability under the same separating performance. The most important thing is GN rectangular weave last longer than the regular square weave screens.
GN Composite Shaker Screens can be stock for a long time without get rusty. While for the metal frame shaker screens, it can never compare the composite shaker screens which can last almost 5 years.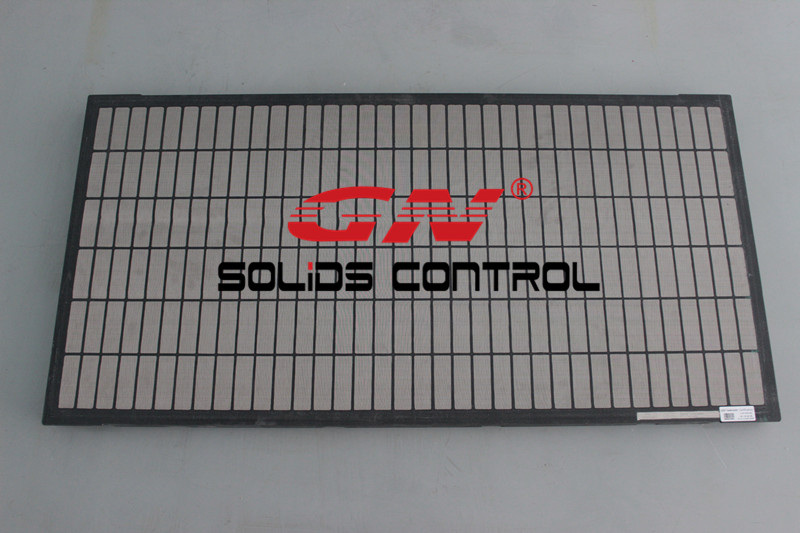 Now GN Houston warehouse has thousands of shaker screens stocking. They can be picked and delivered in a short period. Many companies keeps purchasing from GN Solids on the shaker screens. GN Solids Control shaker screens will always be your best alternate plan. If you're tired of paying high price shaker screens, feel free come to us, even customized shaker screens can be made by GN Solids Control.