GN Solids control has been committed to separation industry for 15 years. We developed vary equipment for solids liquid separation. Shale shaker, mud cleaner, Decanter centrifuge, screw press, and other separation and conveying equipment. We provided our equipment to different industries. Today I would like to share a separation case in chemical industry.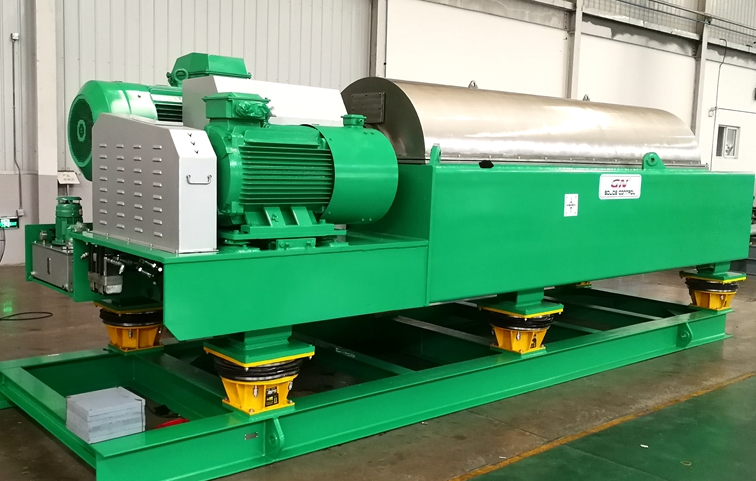 This client is from India. Client want us recommend suitable equipment to separate alumina from mixture slurry. This alumina solids size is between 10-500um ,and solids content is 13%. In theory, Decanter centrifuge is very suitable to process this kind material. Client still require us to do examination before placing the order. GN purchased the alumina in local , and mixed water until the solids content reach same with customer's slurry. We choose our T series decant centrifuge for this experiment. Transfer the mixture slurry through screw pump and feed into our Decanter centrifuge. Under the 1500G force , the solids and water was successfully separated. In this experience, the discharged water is very clean, solids is visible to naked eye. The discharged alumina is small bulk. Client is very satisfied to this separation result.
Basked on this experiment , we recommend out GNLW-554ET Decanter centrifuge to customer for his big treating capacity project. 554 is a 22 inch diameter Decanter centrifuge, centrifuge bowl length is 88in. This treating capacity can reach 100 cube meter per hour when inlet clean water. it is VFD control , client can adjust the rotated speed according to separated result that they want. Higher rotated speed , the dryer discharged solids, meanwhile the less treating capacity.
In chemical industry, some times client need to separate the high temperature material. However, decanter centrifuge require the temperature lower than 70 Celsius. If temperature high than this degree, this may damage the bearing and also bearing seat. So material need some extra device to cool material.
GN not only provide single equipment ,but also entire solution for special project. If you have demand on separation equipment ,welcome to contact us.