GN Solids Control manufactures different sizes of decanter centrifuges, among which the 9 inch bowl centrifuge is the most popular one. GN Solids Control 9 inch decanter centrifuge is mainly used in small flow rate mud treating, such as diamond drilling slurry treating, core drilling mud treating, animal waste treating as well as any lab scale slurry treating.
In the past several years, GN Solids Control has provided almost 100 sets 9 inch bowl decanter centrifuges in Canada, most of them are using in diamond drilling slurry treating.

This week, GN Solids Control shipped another 8 sets 9 inch bowl decanter centrifuges to Canada. As we all know, Canada is a very highly modernized country, when we provide decanter centrifuges to them, they usually use GN centrifuge rotating assembly and fix motors & control box by themselves.
GN 9 inch centrifuge rotating assembly mainly includes the following components: rotating bowl, screw propeller and collecting box.
1.GN 9 inch centrifuge rotating bowl is made by centrifugal casting, solids discharge port is protected by tungsten inserts.
2.Screw propeller is inside the rotating bowl, it rotates at same direction but at lower speed, solids can be pushed from the feeding end to the rotating bowl discharge end.
GN Solids Control test run all the centrifuges 3 times dynamic balance checking for the rotating bowl, screw propeller and assemblies.
3.Collecting Box
Collecting box is made of stainless steel. All the discharge solids meet the inside collecting box and fall off to the bottom catch tank.
With more and more customers are using GN decanter centrifuge, GN Solids Control is able to provide the most cost-effective solutions to global customers. GN Solids Control also manufactures hydraulic driven type decanter centrifuges, hydraulic driven parts are provided by Sweden manufacturers.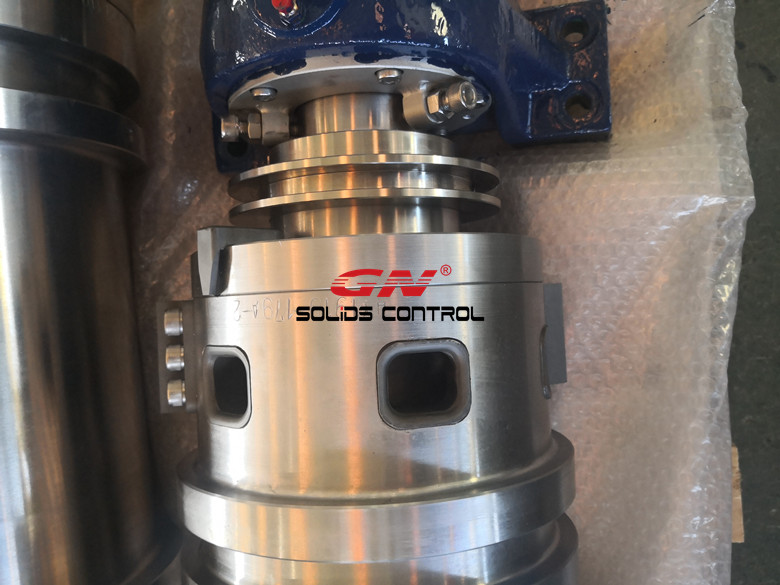 Now GN Solids Control has some sets decanter centrifuges stocking in Houston for fast delivery, welcome to connect with us if you need any centrifuges.