After more than 15 years development, GN has accumulated much experience on the separation industry. At the primary of GN history, we main focus on providing equipment for solids control equipment for oil gas company. Our equipment main used to treat the drilling mud and built long terms cooperation with some top global energy company with good feedback from them. However, we are not limited on the solids control industry for now. We developed some models especially used for waste water treatment. Last week ,GN delivered 3 sets sludge dewatering system to European client.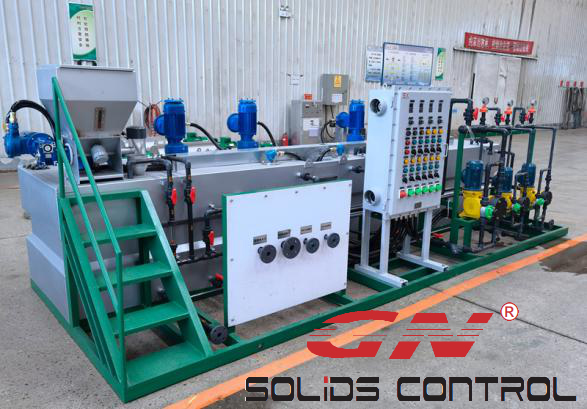 As you know, Europe has the most strict requirement. After several times inspect to GN company, client finalized to use GN technical solution for the water treatment. From the picture you can see, the system combined with 2 parts. Part 1 is chemical dosing unit, which is used to feed flocculant to mix with slurry. The part 2 is a mud tank and installed with feeding pump and GN 224EP Decanter centrifuge.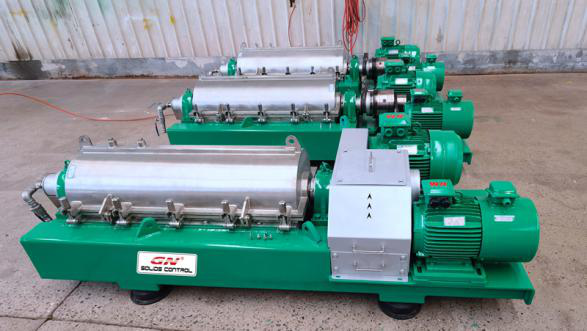 Client require to remove out the particle smaller than 5 micron as much as possible ,it is hard to reach this target if we just take mechanical separation, so the flocculant iso necessary to combine the tiny solids into big to easy separate by Decanter centrifuge. The chemical dosing unit can feed medicine to 3 Decanter in same time. And it can be controlled separately.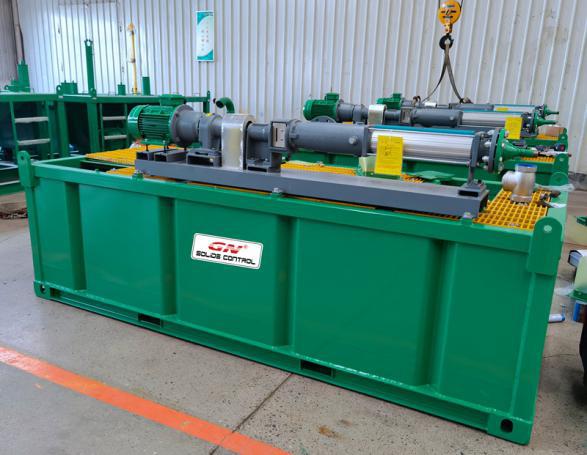 We are required by client to design the mud tank as small as we can. GN224 series Decanter is the smallest model with 9 inch diameter of centrifugal bowl. The special design of cone angel will keep the discharged solids dryer enough. Small size decanter will allow us to use a tiny mud tank to install it. All the system is full automatic and continuous work, which will save much cost of labor for client. The stable quality will make sure the less cost of maintenance. Simply operation, stable quality, automatic are the features of GN equipment. If you have demand,please feel free to contact us.