Solids control is one of the very import link in the petroleum well drilling project, which is used solids control equipment to remove out the drill cutting from the mud, recycle mud and keep the property of mud. and the good mud can balance the pressure between inside and outside of well. and also protect the rig machine. Improve the rig drilling efficiency. Last week we delivered several sets Decanter centrifuge and screw pump for offshore drilling project.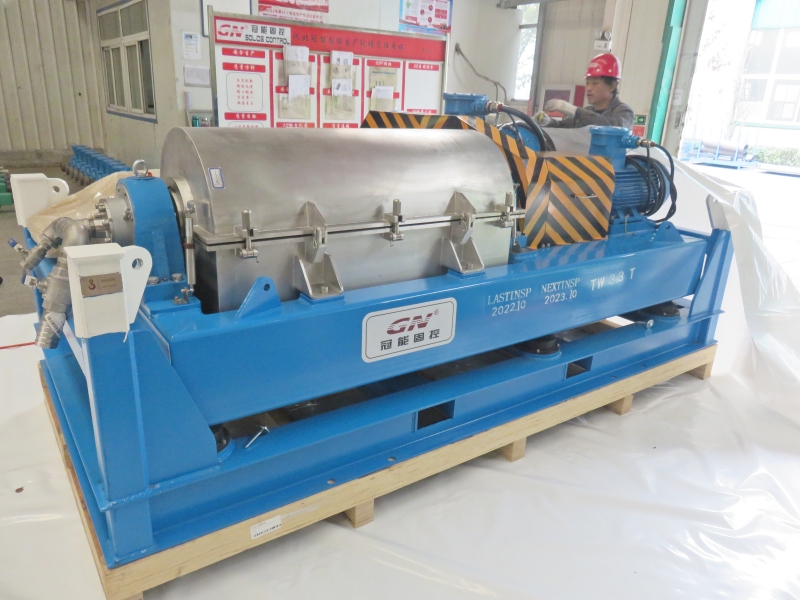 In all solids control equipment ,Decanter centrifuge is the last stage for drilling mud processing. It can remove out the particle that smaller than 2o um, and clean the mud. GN have different models Decanter centrifuge according to the treating capacity ,GNLW452, GNLW363 are most used in the drilling project for mud treatment. For some big treating capacity, we will recommend 18 inch GNLW553 centrfiuge to customer. From the photo, we can see this centrfuge is a little difference with standard machine. It is used for offshore drilling, and has more strict requirement to lifting. As we all know, there is no forklift on offshore platform, so all equipment must weld the lifting eye. Sometimes end user will require the DNV lifting certificate. Centrifuge is one kind machine that utilize the rotate speed to generate the centrifuge force, and the different density solids and liquid will bear the different force, then the material will settle on different layer.
Except decanter centrifuge, We also provide centrifuge pump to customer. In drilling mud project, centrifuge pump is the most widely using pump. It is simple structure with stable quality. For the high density liquid transfer, centrifuge pump is the best optional for client.
GN solids control can provide the whole series solids control equipment, such as shale shaker, mud cleaner and also mud system , if your project have demand on our equipment ,please feel free to contact us.